Today's post is a special guest post by the lovely and talented woman in these photos. Enjoy and Thank You Dayna!!!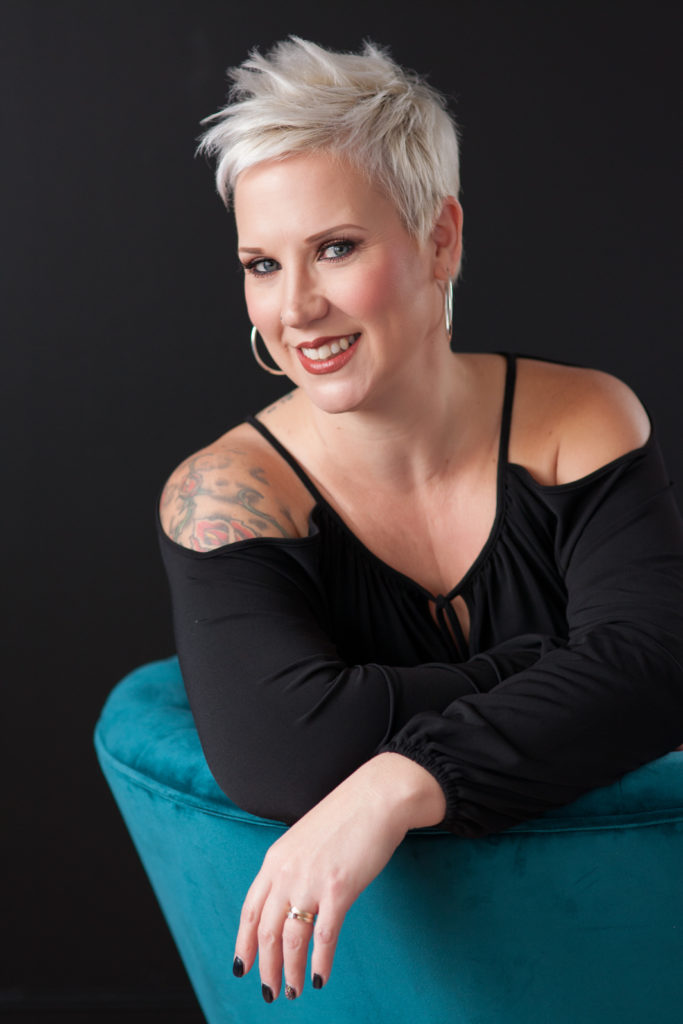 When you feel good, you do good.
That has been my philosophy as a makeup artist. I am blessed to say that makeup artistry has been my passion for the past 14+ years. I love the transformative effect makeup can have on a woman, and not just physically. Some of my favorite shoots to do makeup for is boudoir sessions. I find that for a lot of women, their session was a gift from that someone special in their life. As they sit in my chair, they tell me one hundred reasons why they are not looking forward to their session: they are not the size they used to be, gravity has taken a toll on their figure, their laugh lines are too prominent, they just don't feel sexy. Life and motherhood have given them a different view of themselves than they used to have.
And then the reveal happens, and I get to show them the sexy woman that was there all along! This beautiful, wild, vivacious woman, who no matter her age or size, still has IT. With a little blush, a set of false lashes, and some great lip color, I get to remind my clients how gorgeous they are! I love it when I see them taking selfies before their session, and I make them promise to not ignore the woman they see in the camera – this powerful, confident, beautiful woman who is ready to retake on the world.
For me, makeup is not about vanity. I believe that when we feel good, we do good. And makeup makes me feel good. I feel better prepared to meet someone new when I have eyebrows. I feel stronger in a bold red lip. Blush gives me a boost and mascara means business. I conquer the world with contour. And five years ago, my world changed…
My son was born prematurely at 29 weeks and spent a total 53 days in our local NICU. He was seven days old when I finally got to hold him for the first time. It was a hard experience; not just for me as a new mom, but for any mom. When you child is hospitalized, many of those things we do for our children (and take for granted) we can no longer do. It's incredibly hard to be a mom, but even harder to be a "hospital mom". Throughout my journey I have met many hospital moms, and although our children's diagnosis varies, our feelings are the same. We are scared, lonely, angry, dealing with guilt and wondering how life goes on outside the hospital while we sit bedside, battling for children.
Five years later, my misery has become my ministry. I founded A Mother's Keeper, and we are a dedicated team of volunteers in central Virginia, who through personal experiences, are committed to providing comfort and encouragement to mothers caring for their hospitalized children through our care package program. On Mother's Day 2017, with the help of a thoughtful community, we delivered 140 care packages to five different Richmond-area care facilities. During Christmas we assembled and delivered 250 care packages to seven area hospitals and two care organizations. The response has been amazing, and it's incredible what a simple care package can do to lift the spirits of a hospital mom. For 2018 we hope to double our impact and increase our reach to provide care packages not only in Richmond, but in Charlottesville and Fredericksburg as well.
We support our giving activities by hosting various donation drives and fundraising events. To find out more about A Mother's Keeper and how you can get involved, please visit www.amotherskeeper.com. A Mother's Keeper is a partner of Reach Richmond, a 501(c)(3) charity.
And if you're ready to retake on the world, but need a makeup refresher, contact me! I am available for weddings, photo shoots, event makeup and also one-on-one and group makeup application lessons.
Dayna
Dayna Cobb Makeup Design
www.daynacobbmakeup.com
www.facebook.com/daynacobbmakeup